I got one of the places in the Facebook contest, which really surprised me since I just threw in a dorky picture of me on The Dark Knight Coaster, but anyway I was invited to the ERT event, so I decided to go with my family. Since I'd never been in the Wild Safari before, we decided to go in and it was a blast. I wouldn't mind going through again since it's free with a season pass. The Safari is truly understated and I suggest it to anyone! The highlight of the ride is most definitely the giraffes, who aren't afraid to give your car a lick or two, and look in the windows. I also saw some sort of deer slash antelope blocking a car, which was pretty funny. The baboons were cool too, and I was thinking about how their loop is going to be the only thing left of Scream Machine soon. I saw one of the baboons sitting on top of the loop, he must of thought he was King of the World! So, on to the pictures.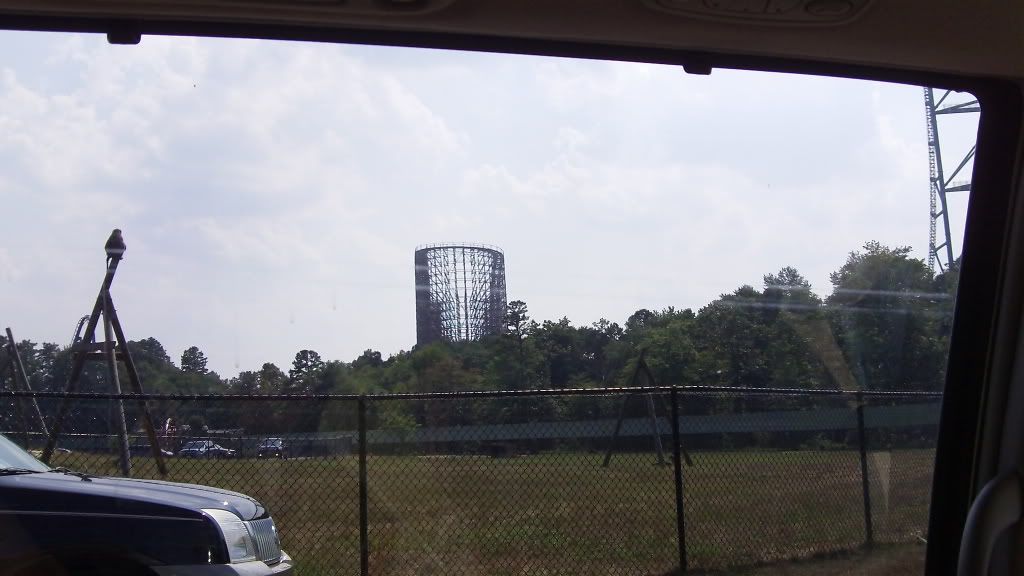 Oops, well, I only got one picture. And from the picture, you can see where my mind was!
I got a never-before-seen view of Rolling Thunder and Kingda Ka from the Exploration Station parking lot... Rolling Thunder looks really cool back here! By the way, they were running only the other (right) side today, or at least towards the end of the day. You could see a lot of new wood on the ride. I truly hope that soon Rolling Thunder gets a complete revamp and some cool Flyer trains.
This has never been photographed before.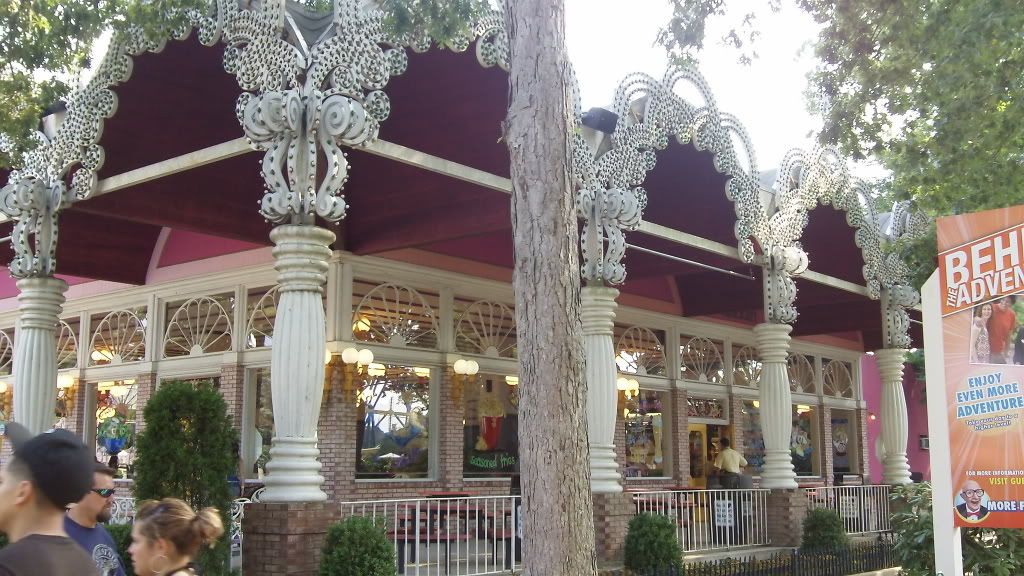 I truly wish they'd light this up. This side of the park is dead as it is, and this would breath "some" light into it.
Before I rode anything, my family ate at Mama Flora's. It was great! As of right now it's probably my favorite park food, I got one of those flat breads and it was delicious, nothing theme park-y about it except for the price.
Then it was time to ride on Snickers. Oh wait, that's Nitro??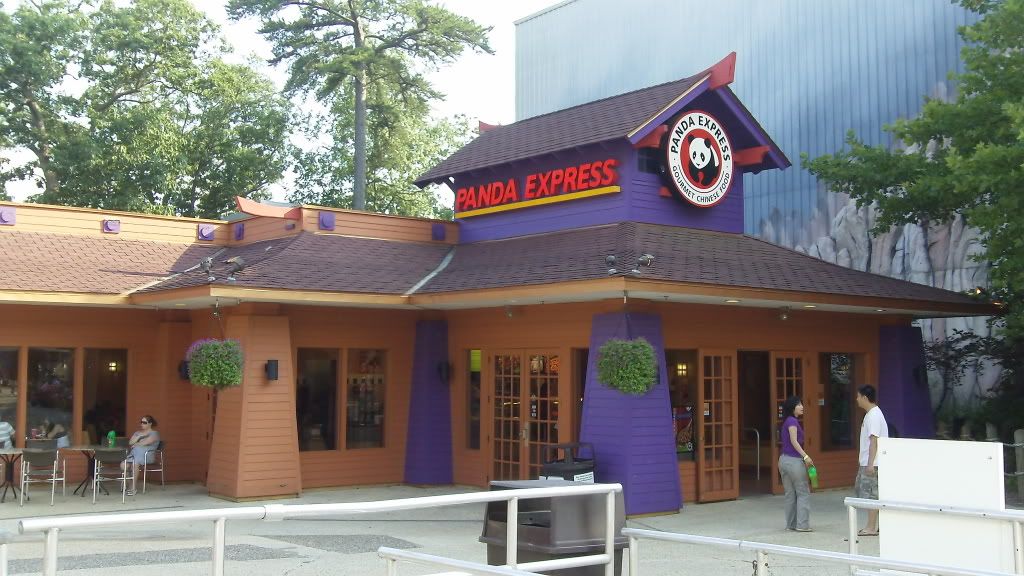 Random pic of Panda Express taken from the Skyway line. How come there's always a line on Fantasy Forest's side, but not on Frontier Adventures?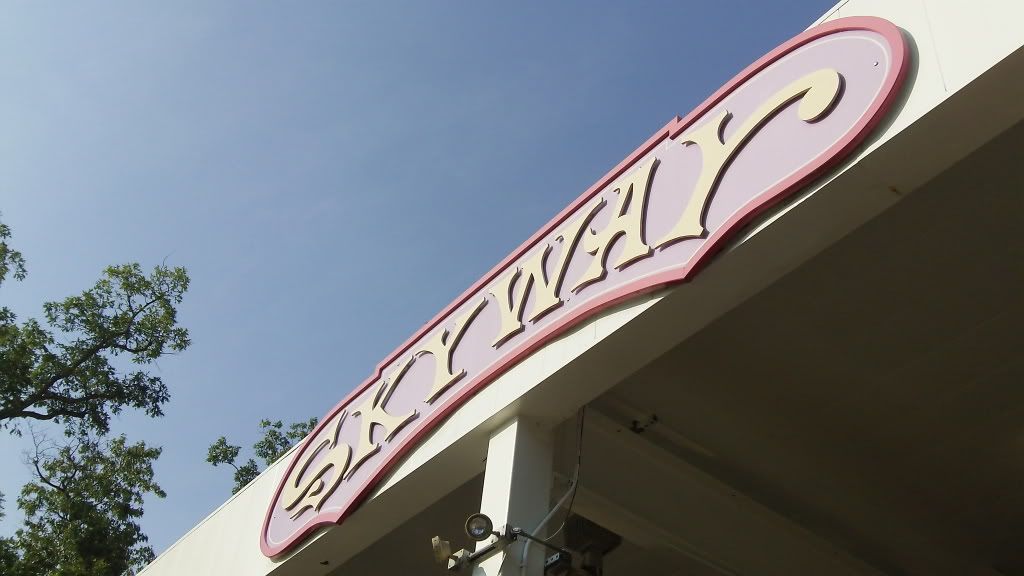 Welcome to the Skyway, where you will traverse along many acres of beautiful.... sorry.
I spoke with Angel and she said that GASM starts deconstruction this morning.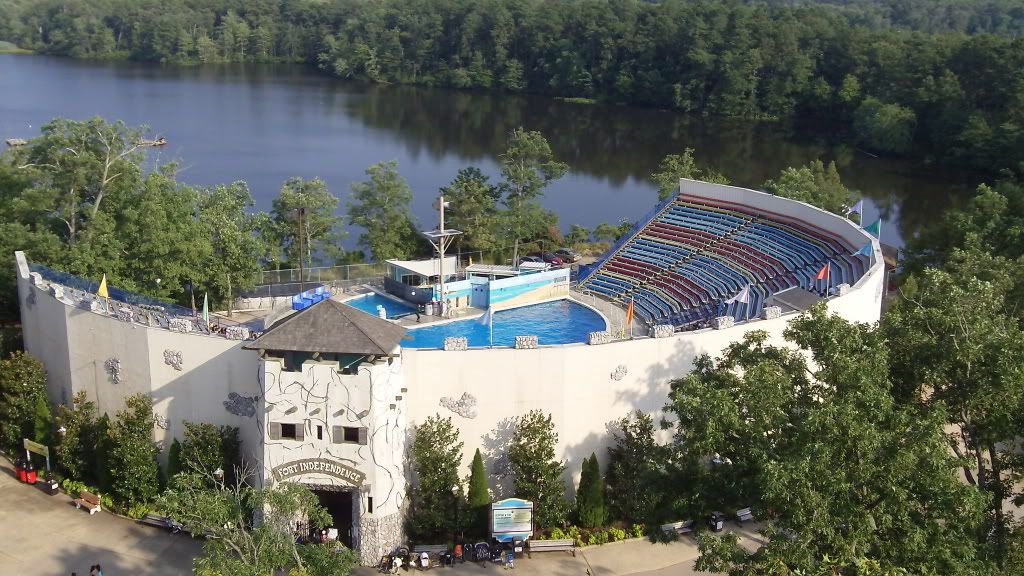 There was a dolphin show going on, but I didn't see it.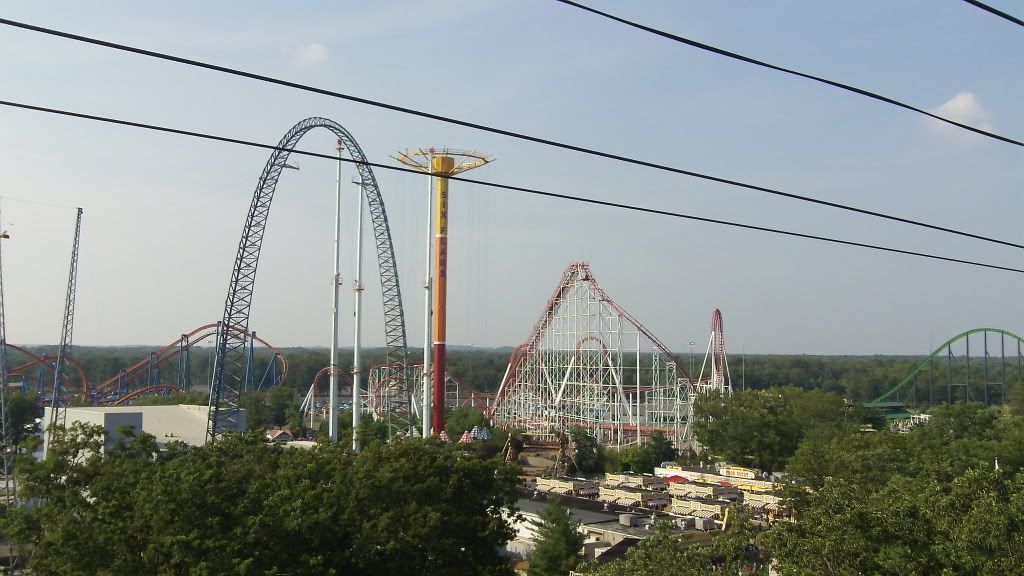 Closer-up view of GASM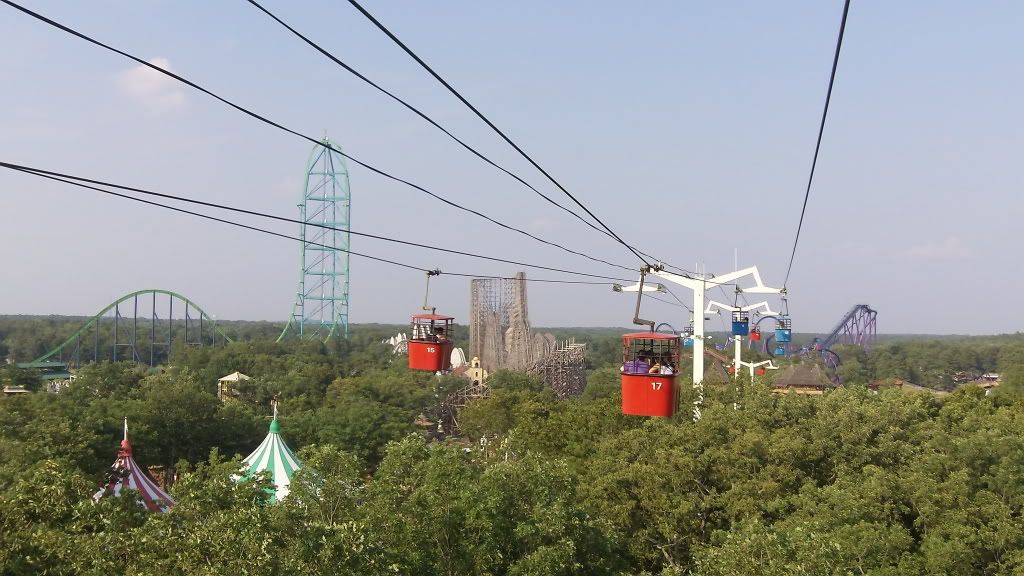 I'm so glad we have a Skyway. Please, never get rid of it.
Right now the Western section is a lot of cement, I think we need some more theming to anchor it, and a western-themed flat.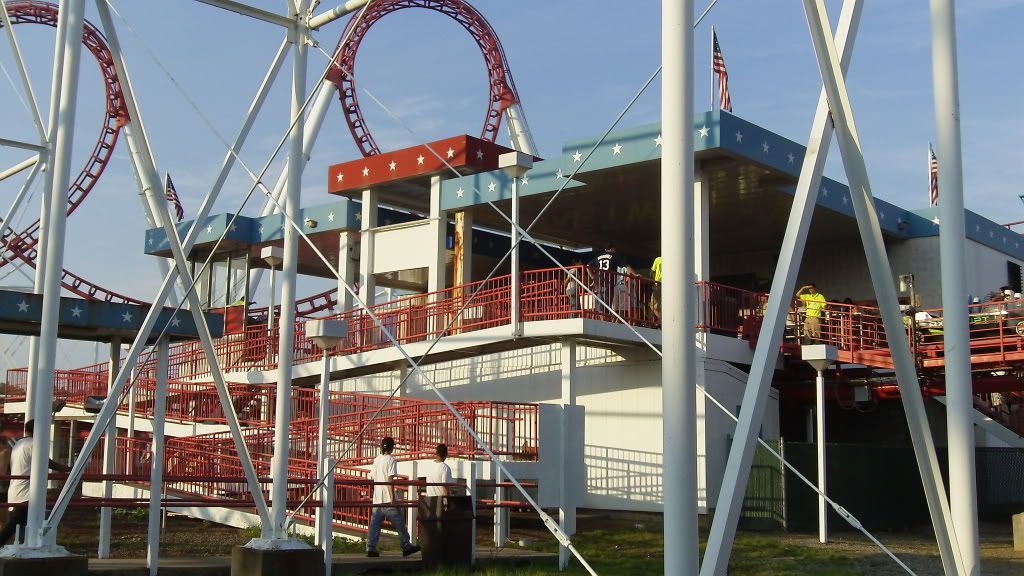 One of my favorite parts of this ride is the station - it just looks so cool. They don't make 'em like that anymore.
What's this?? A line? Well, it's partially due to the ride closing but also due to the fact that in effect, they're only running one train with the double rides.
Can you see the green survey markings?
*tear*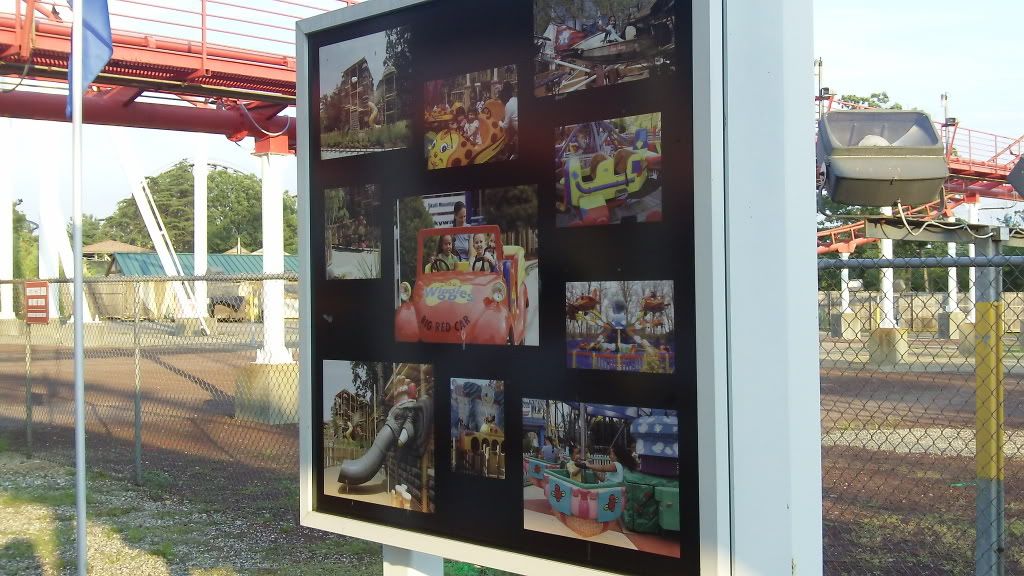 The history of kiddie lands.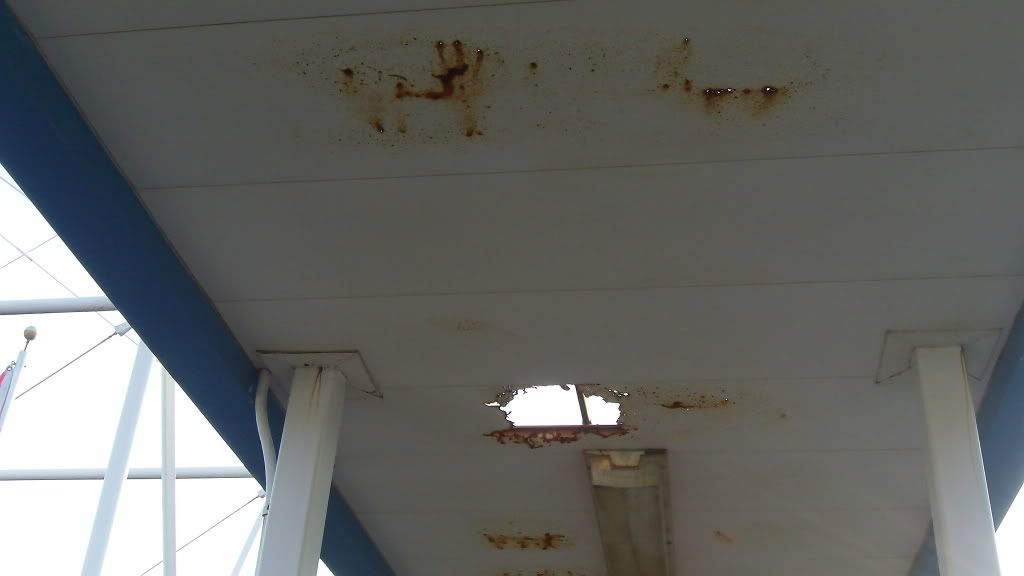 This has been here for a while, and this is the type of thing people compare to Busch Gardens and Disney's meticulous care.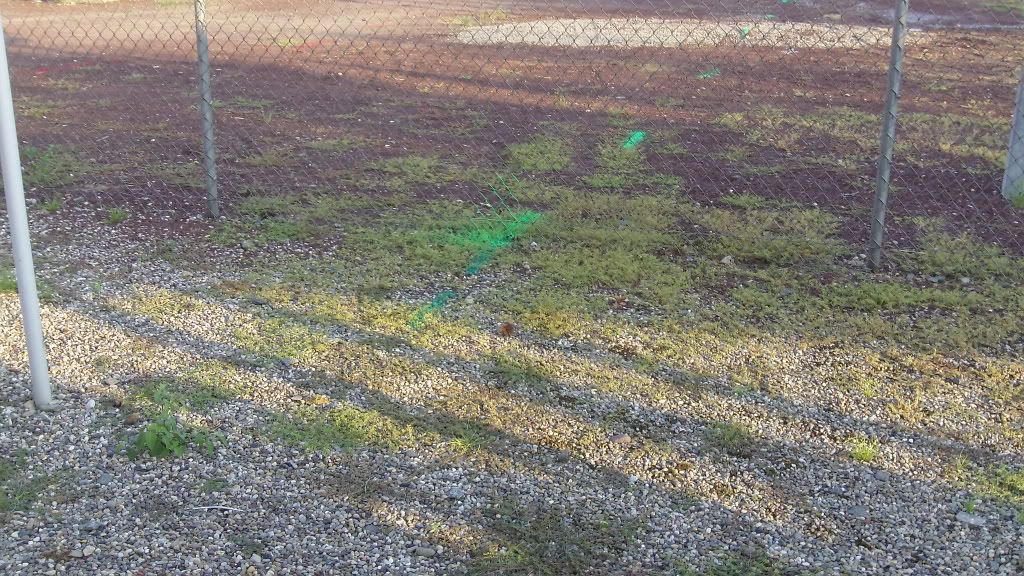 Closer-up view of the markings. While looking around, I was thinking, this is one of those Six Flags-y coasters. Those cheapish things that they just threw wherever they fit, on a parking lot? Sure. Walking around on top of gravel isn't as pleasing as walking on grass, which is why I was glad they at least went that far with Superman (But Superman needs trees). Hopefully the new coaster will come with grass.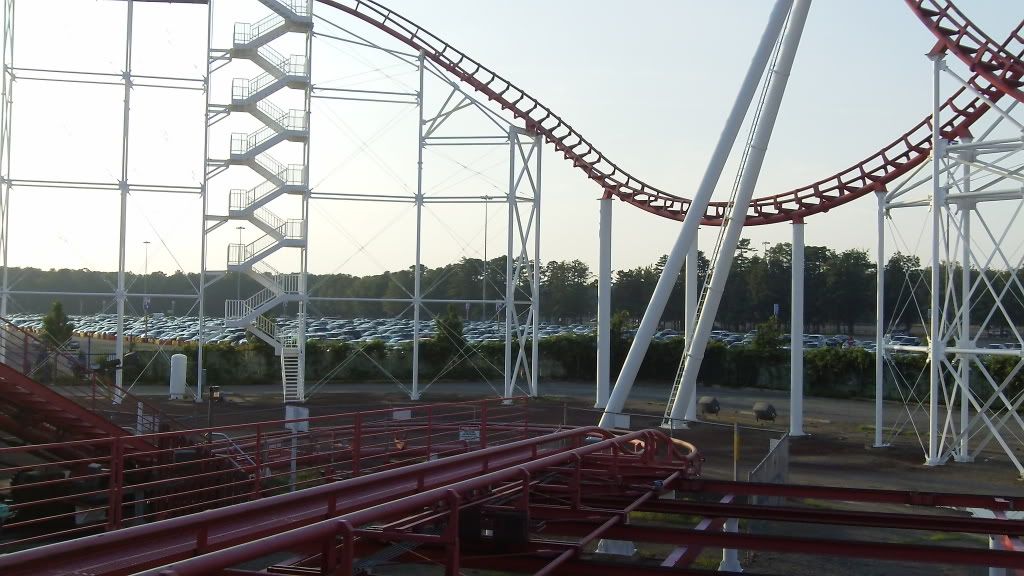 Waited in a relatively short line for the front row, and got a double ride. This was the start of my headache.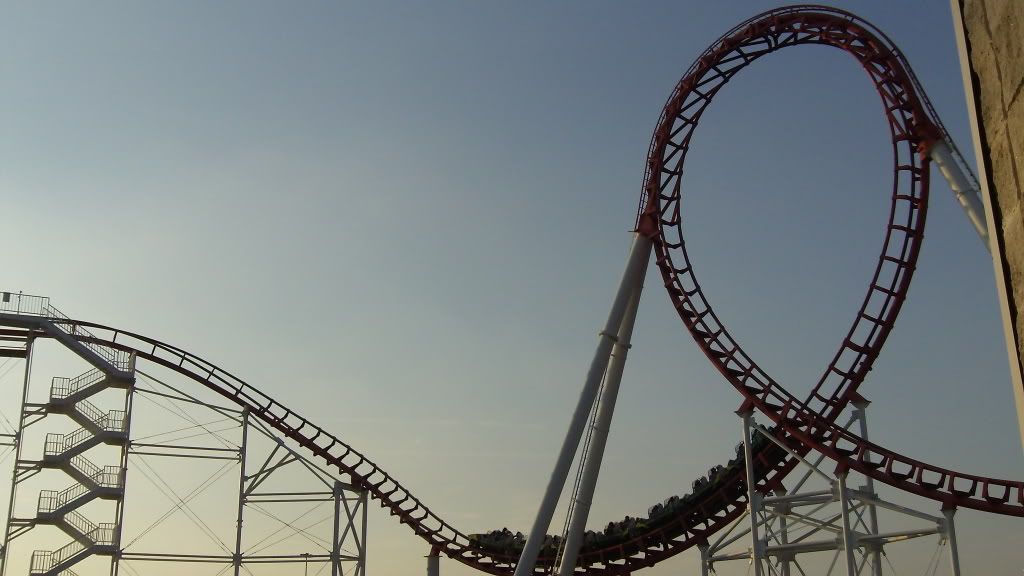 Cool part of the ride.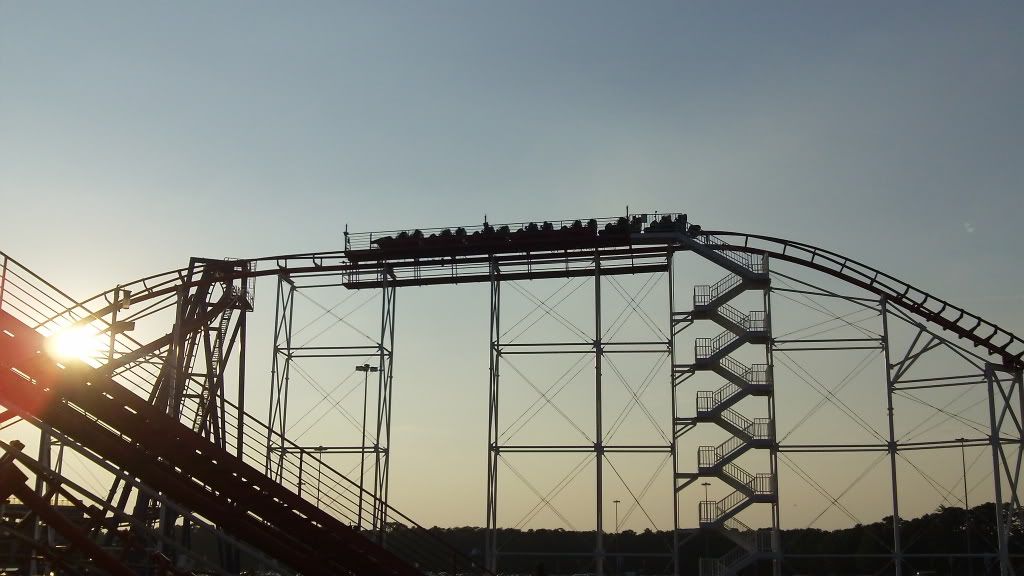 The ride is best if the brakes bring the car to a complete stop, so that you get some hang time on the batwing.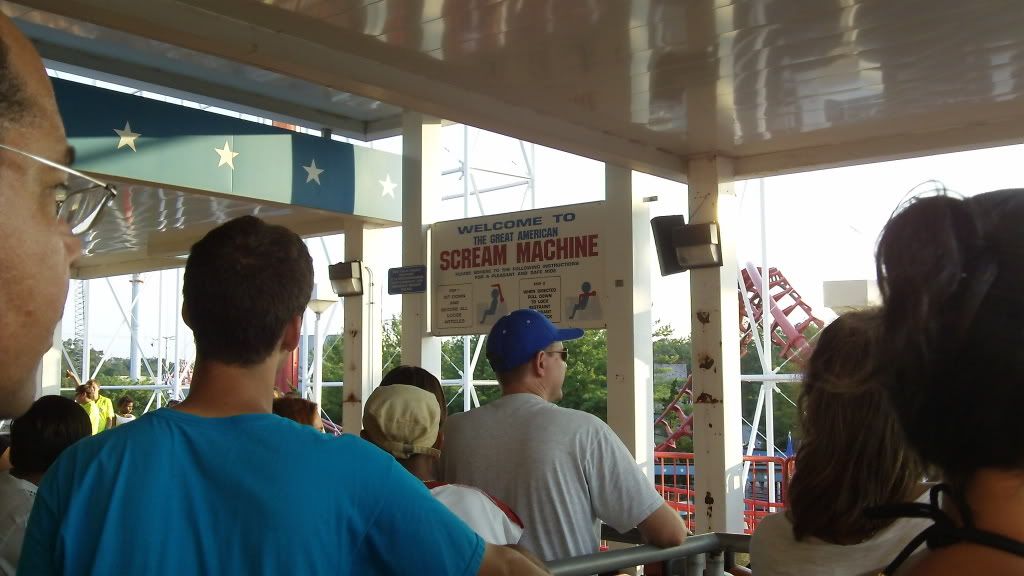 Some pics of the station.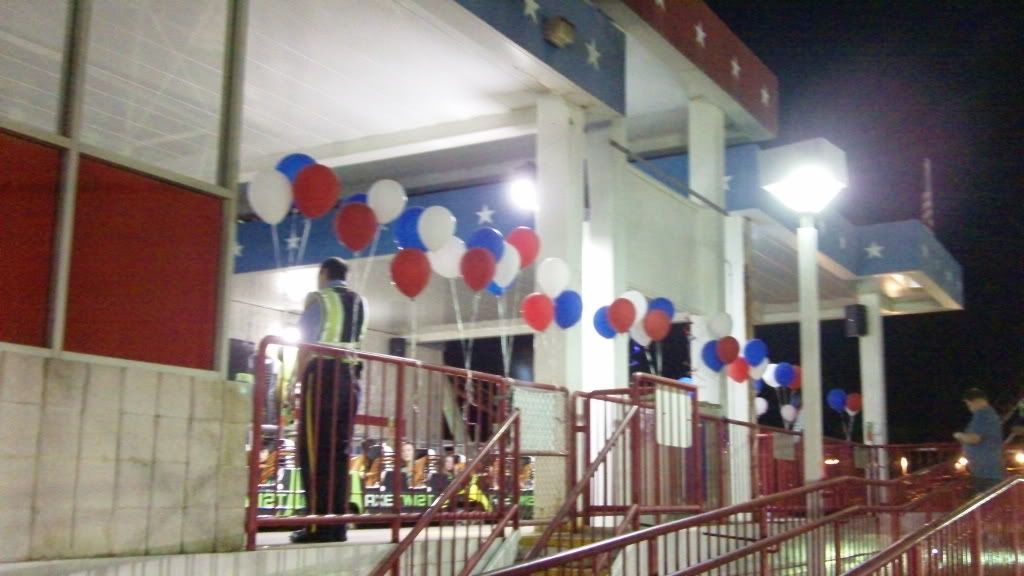 OK, this was put up for the ERT event, which was pretty cool! They had free hot dogs, soda, and popcorn, and a band singing all their songs dedicated to GASM. I could see tears running down GASM's, err, trains.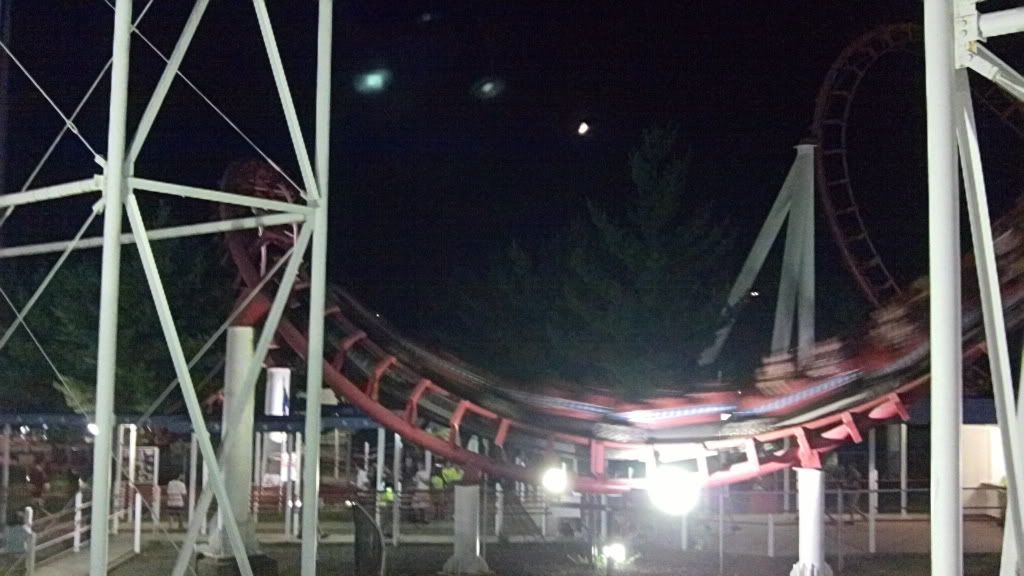 Wheeeeeee! (The smoothest part of the ride)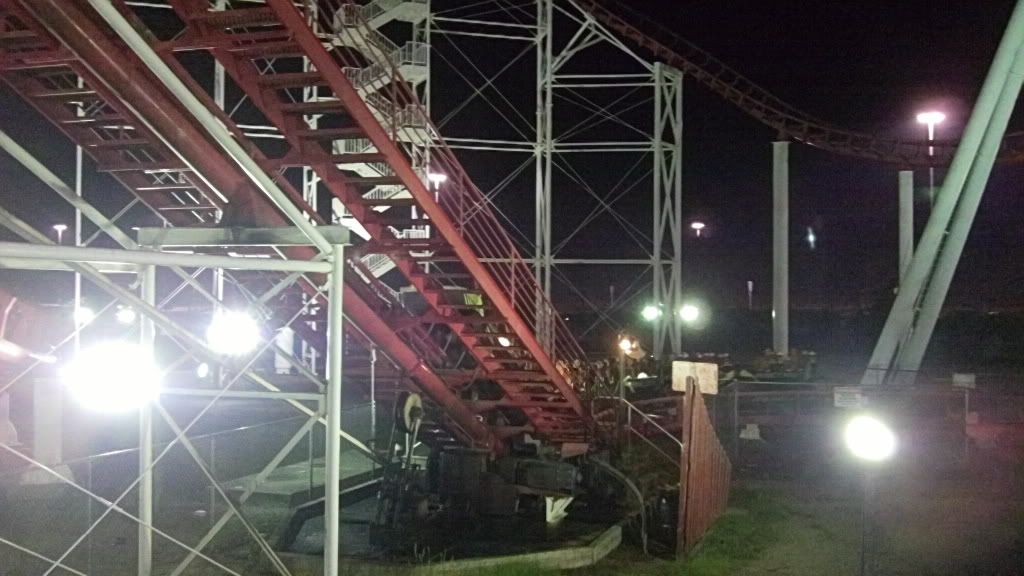 A few last looks.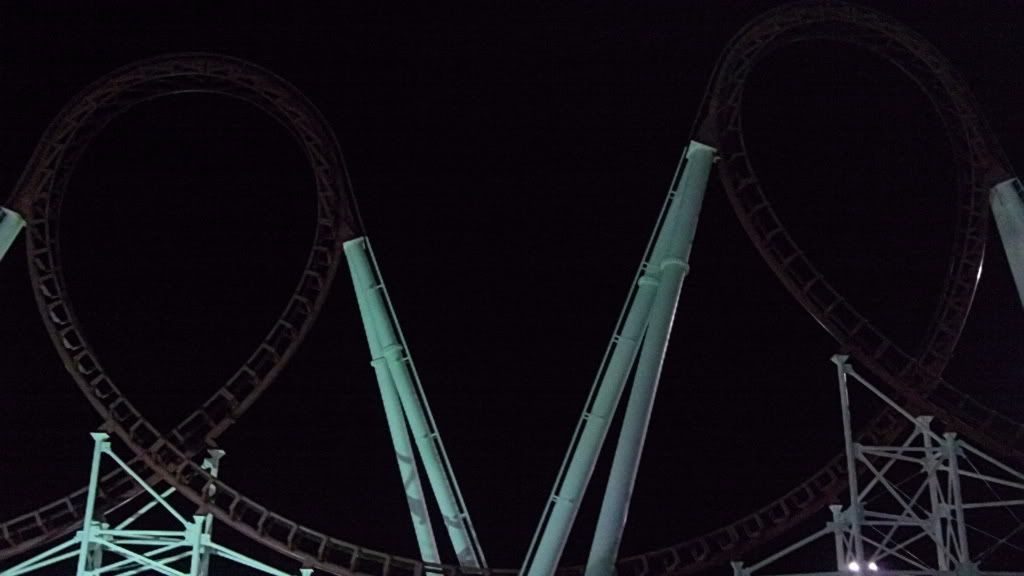 This was after my second-to-last ride.
The station looked really nice, even if it was mostly decorated with cheap-ish party style decorations.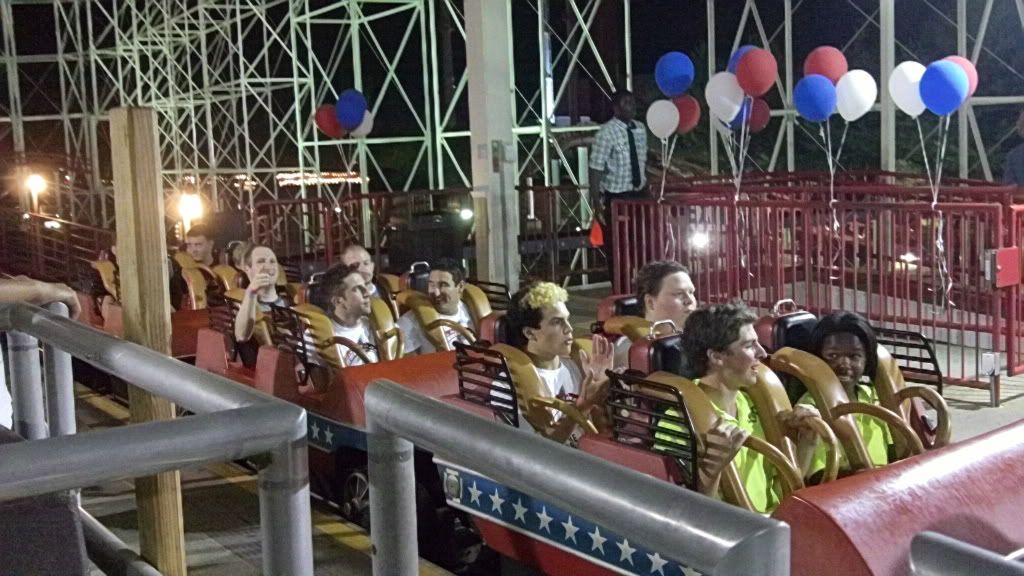 It's too bad they couldn't take the ads of the train for the last day.
One of the last looks around the station and it's signage - I would have gotten a picture of the eagle, but it's being choked to death with an Axe Twist ad... great for Six Flags's most patriotic coaster!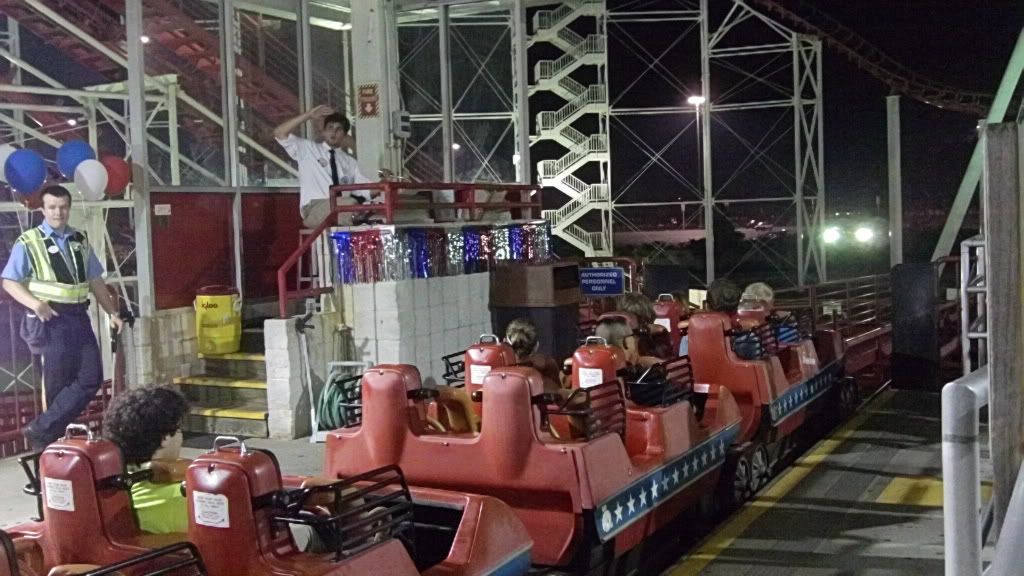 This is my last picture of GASM..... and it's clear.
All-in-all, I felt great emotionally but not so great physically (I went home with a killer headache). I stayed until 11:00, and left the parking lot around the time the last train went around. I overheard a guy who bought the last two seats in the Cyber Cafe!
I'm just really happy that Six Flags didn't just throw this coaster in the trash can like they did with Chiller, even if it wasn't really their faults. If GASM were a person, he/she would be really happy. There was this feeling of family and love in the station with all the Facebookers and ACErs, and everyone came back cheering, even if they did have a few dents in their heads. I hadn't seen this many happy people around the ride since the video I saw from when the ride first came out. While I'm pretty sad and I will miss the ride dearly, it's time for it to go as it did give me a whoopin' every time I rode it.
Anyway, GASM was a very important part of Great Adventure, and I'm glad it got a pretty good send-off event. Thanks GASM, for everything.