Hey guys! I know you have been itching to hear about our trip (Sfnekid12), so let's get started!
Participants:
-Rob CL Chin
-Kevin
-Kaiser
-Jason/Samantha
-Caitlyn Storm
-Josh (Our supreme overlord)
-Brandon(Chop Dog Studios)
-Josh(Chop Dog Studios)
-Tersa
The day started at the Main Street Fountain. We all met around 10:30 am. Josh was already in the park with his Chop Dog buddies. He went to Guest Relations to pick up a media slip for the Fright Fest Attractions. He was able to skip the line of the Terror Trails, but unfortunately, he was only able to take 4 people with him. Kaiser, Kevin, and I bought a TT Season Pass later on in the day, but we'll get to that later. The crew stated it's day at Movietown! Jason and Caitlyn weren't with us at the time, and actually did their own thing for most of the day.
We had no wait for Nitro in the back row! It was a great way to start the day. After that ride on N20, we went on Batman: The Ride! I had my addiction once, and it gave me a huge headache! I love B:TR, but I can't do it more than twice in a given time. The crew went over to the Dark Knight after. It was a nice little way to work off that headache... sort of. lol We finally got off and on our way back to the Nitro lockers, we found Jason and Caitlyn! They took our route (Nitro-B:TR-TDK) after we caught up for a bit.
Our group decided to travel over to the Boardwalk to eat lunch. We got
Itchiban
chinese food! It was really good! Kevin didn't feel like having Chinese, so he had
Totally Kickin Chicken
! We lazily got up and walked over to Plaza del Carnival to ride... ROLLING THUNDER! We chose the right side. It had a 5 minute wait. I rode with Josh in front row with kevin behind us, and the rest in the middle of the train. I'm loving Rolling Thunder! It wasn't as rough as I remember.
After our ride on Blunder, we went over to see the SEA LION SHOW! Those sea lions were pretty cute. I wanted to see some cool TRICKS...I mean behaviors, but it was very bland and boring. They barely got into the pool. I guess it didn't help that the sun was beating down on us. After the show, it was about 2:45 pm. We went over to buy the TT passes. Kaiser, Kevin, and I bought the season pass for TT and went to the 'Haunted' Wagon Trails.
We got to see many characters on our way, including FRANKENSTEIN...some witches..Taylor Swift...Dorthy...and FRANKENSTEIN again!
haha After the hay ride, we went over to Skull Mountain to see Shelby! She was so happy to see us. Skull had about a 20 minute wait. After Pumpkin Mountain, we made our way over to the Showcase Theatre to see Ghoul Master's Ghosts! I thought it was a pretty neat show, but according to Jason, "IT WAS HORRIBLE!" I'll let him explain all the reasons why it was bad. lol I thought the dancing was amazing, and the special effects just added to the show. After, it was time for the Awakening to start! We were all excited to get Fright Fested (New term that I created....WHAT!).
The new Fright Fest Stage was beautiful! I'm really excited for this new layout and area for the show. Movietown allows more people to watch the show, and it brings more foot traffic to the rest of the rides in the area, including the Fright Fest Trails. (I'm not going to rant about Fright Fest on this trip report, but if you want to read what I said about it, go
here.
After the Awakening/DMP opening acts, we went over to the Wasteland Terror Trail. When we got in, we met up with Harry from GreatAdventureHistory! He protected us from the ghoulish frights and scares. Wasteland was a pretty interesting trail. I love how they morphed the trail into something of a theme. There were radioactive waste barrels all over the trail. These deformed humans were transformed by the radiation. Some characters were blended in with the trees. I was walking, and there was somebody right in front of me. The trail ended with the corn maze into Looney Tunes Seaport!
The crew and I went right over to see Circus Psycho. I'm just going to say, they should have rethought the single path of the midway. The actors were the best, as always, but they need some more room to run around. We went over to check out the Voodoo Island Trail and Bob The Butcher Territory. Voodo Island had over an hour wait, so we decided to skip to see the ghouls in Bone Butcher. There were literally 2 people. Again, if you want to see the rants go to
this
page.
The Manor Terror Trail was next. It was pretty scary. One of the scariest trails I've ever been in. Insanity: Gears of the mind was the scariest. As soon as you open that door to the manor, you are greeted by zombies. Everywhere you go, there was somebody there to scare you. There was one part that scared the crap out of me. There was this huge black parachute that was inflated. We were all stuck in there, feeling the panic closing in. There was somebody at the end of the path to scare us. It was quite creepy. Nothing compared to the Insanity Terror Trail though. Oh jesus. lol
After the Manor trail, it started to rain. We were worried we weren't going to be able to see the original DMP, and unfortunately, we weren't able to. We were able to see the last viewing of the Ghoulmaster's Ghosts show. Jason was so proud of his Norma Nova poster!
We all left around 10:30, since the park was rained out. There is a video on Facebook that shows how we ended the night!
*Spoilers-It has the music for the Ghoulmaster's Ghosts show!*
We had a great time! Hopefully, we meet up 2-3 more times before the season ends!
Rides:
-x1 Nitro
-x1 B:TR
-x1 TDK
-x1 Rolling Thunder
-x2 Skull Mountain
Total: 6
Shows:
-1x Sea lion Show
-1x The Awakening
-1x Dead Man's Party
-2x Ghoulmaster's Ghosts
Total: 5
Fright Fest Terror Trails:
-1x Wasteland
-1x Manor
Total: 2
Grand Total: 13
Here are some photos!
Kevin, Josh, and I!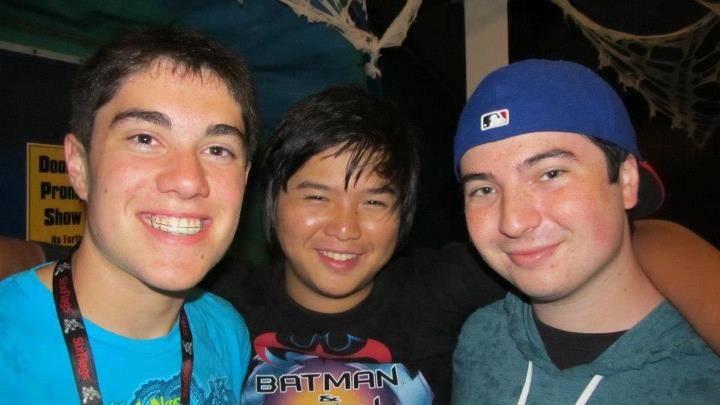 Josh knocked me out! Ouch! lol
Awakening/DMP Pics!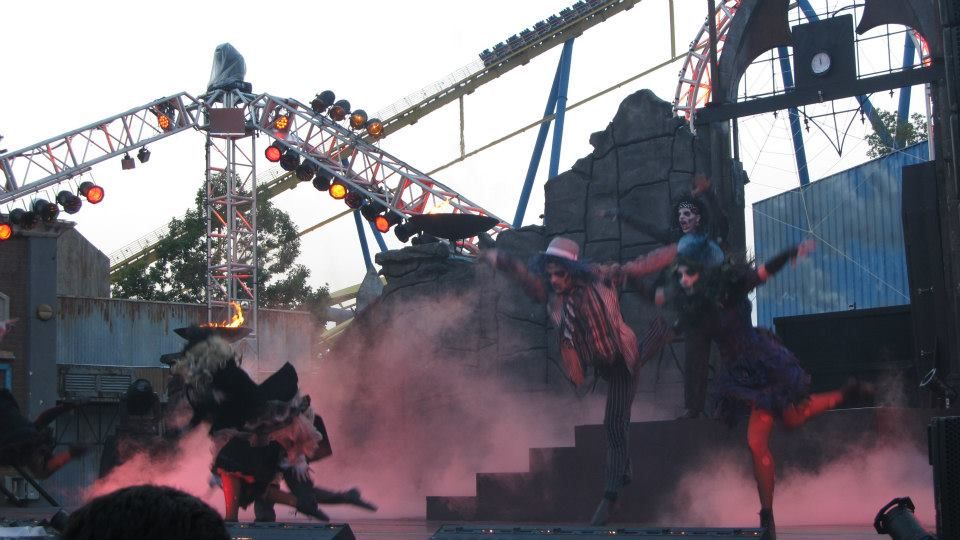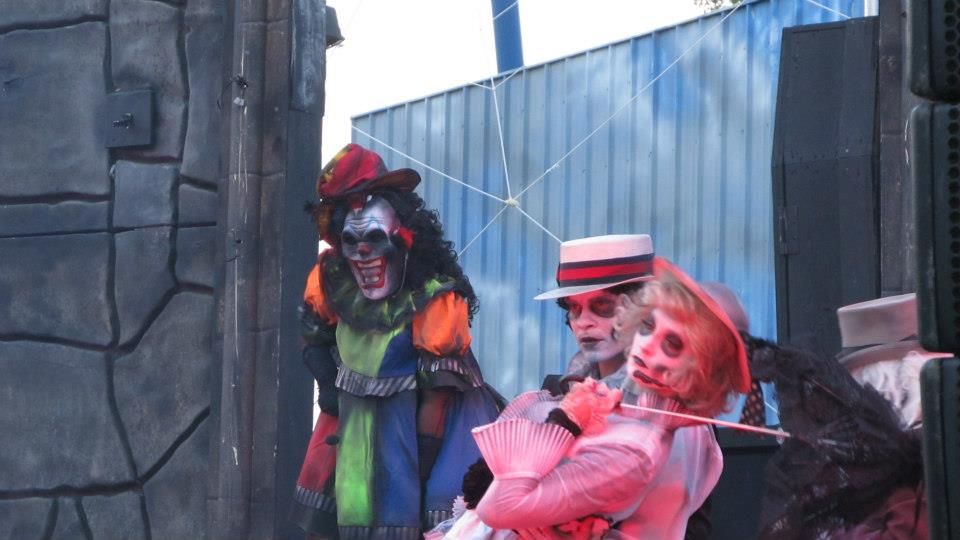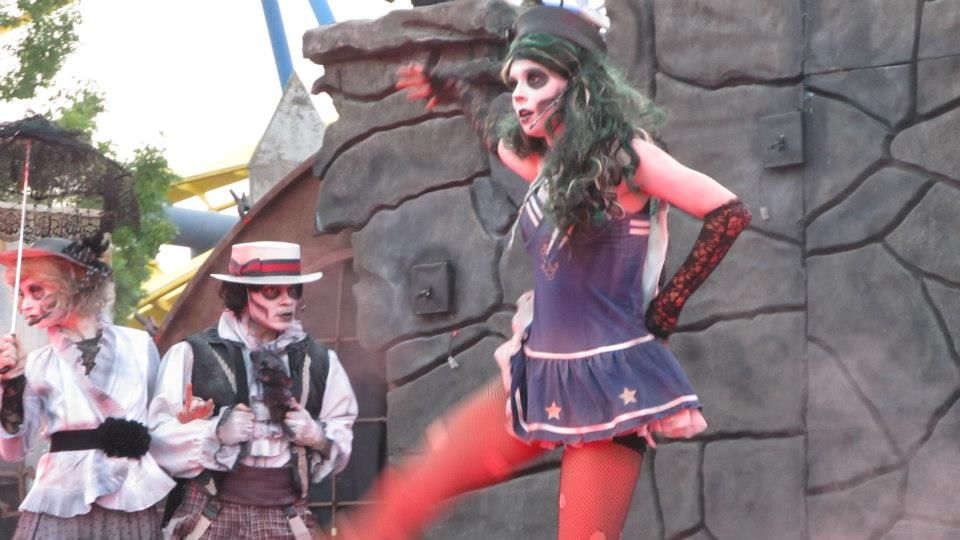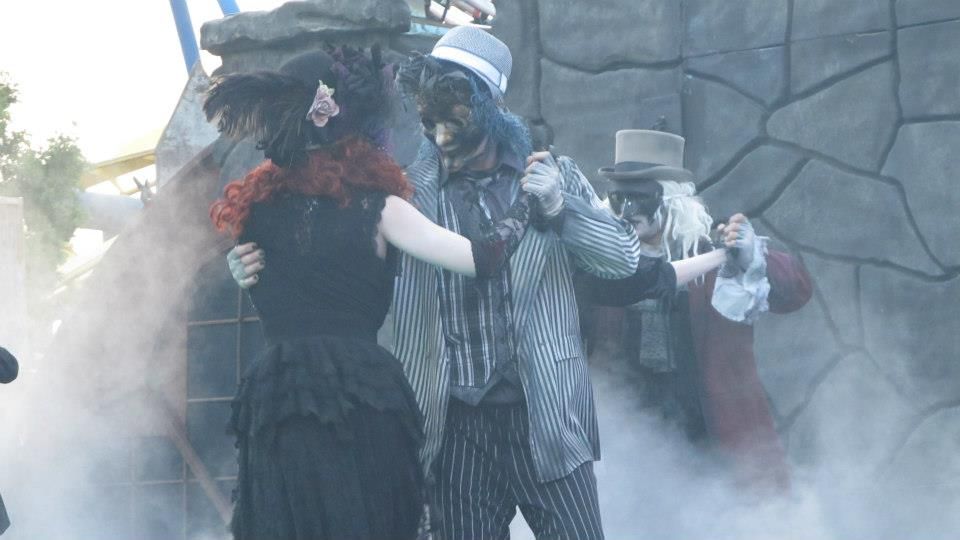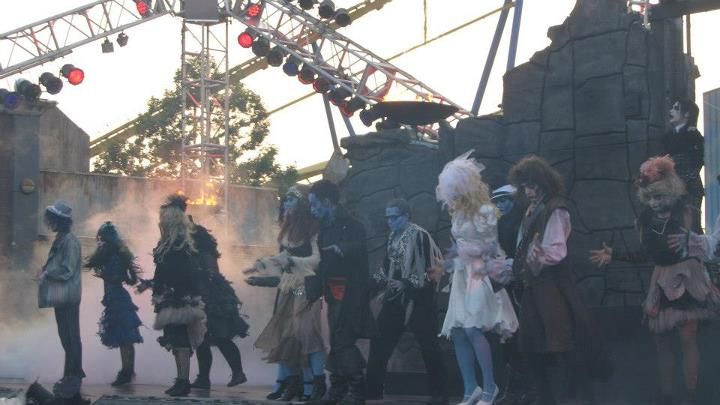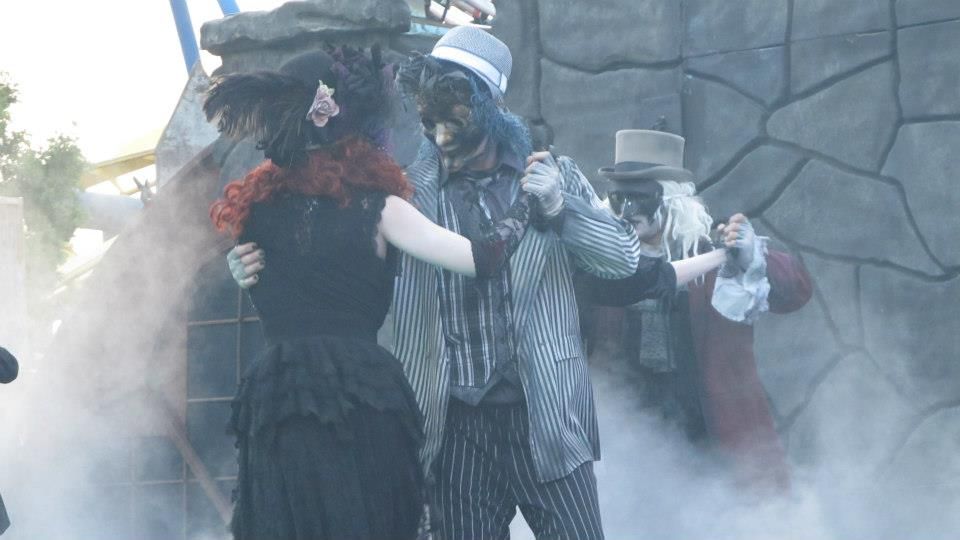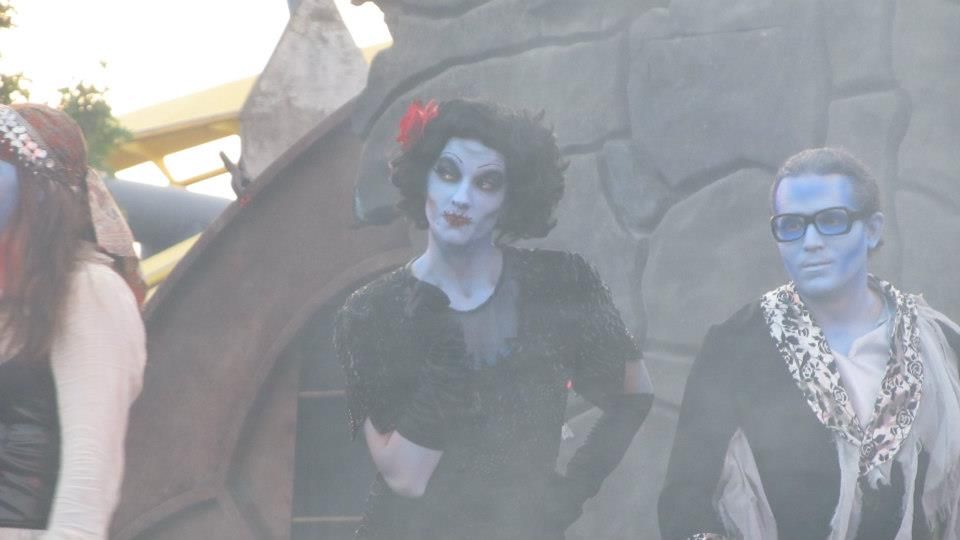 Group photo before the last Ghoulmaster's Ghosts!