Since the park was staying open until 10:00 this year for Columbus Day I decided to go to the park later in the day getting there around 5:00 and staying until closing and hoping lines would be short. Walking into the park, I saw from the lot both Green Lantern and Superman looked around 30 minutes each.
Batman's line was almost into the garden area with not all the switchbacks being used but still looked to be around 25 minutes so I skipped it and went to Nitro where the line was at the 30 minute sign. Dispatches were a little slower than normal and with all 3 trains running the line was almost 15 minutes.
 
After that I went to Skull Mountain with a full station waiting around 10 minutes and then walked around for 2 more rides waiting around 5 minutes each time.
I walked over to Frontier Adventures and stopped at Runaway Mine Train with a 2 train wait and then to Bizarro with the line past the stairs and it was around 15 minutes and then went back to Runaway Mine Train without a wait.
I took the Skyway back to the Dream Street station waiting a few minutes and walked onto Skull Mountain again and went back to Nitro waiting around 15 minutes total including waiting a few extra trains for the front row.
Blackbeard's was next with no wait and then I went to the Boardwalk riding both Superman and Green Lantern with no wait.
It was almost 9:10 and less than an hour left until closing. I wanted to try to ride Kingda Ka and then go back to Batman and The Dark Knight which would be difficult. Kingda Ka had around a 15 minute wait with 3 trains running and after that I walked quickly from Kingda Ka to Batman. The station was mostly empty but I waited an extra train for the front row.
When I went to The Dark Knight they let us skip the pre-show and I got to the station at 9:54. I figured there was no way I would have time for any other rides after that since I exited ride at 9:59 and saw they had closed the line for The Dark Knight and also saw the entrance to Batman was closed.
I walked over to Nitro thinking there is no way the line would still be open but surprisingly it was. Right when I walked into the entrance the person at the entrance got the call to close the line so if I had gotten there another 15 seconds later, it would have been too late. As expected the station for Nitro was almost empty and I got on the second to last train of the night. I think they should start making announcements 10 minutes before closing that people waiting for the front row may not be guaranteed to ride in the front since they are only going to run so many more trains rather than wait until closing or right past closing to say that. Every time I am at a ride like Nitro or Kingda Ka at closing that always happens where people are spending there time waiting for the front only to have to move to another row.
This might have been my last trip to the park this season and if it was I had an overall great season. I got to the park 23 times this year which is a new record for me (last year I went to the park 22 times) and had many visits where lines where short or non existent.
Ride Count:
Nitro, 3x
Skull Mountain, 4x
Runaway Mine Train, 2x
Bizarro, 1x
Skyway, 1x
Blackbeard's, 1x
Green Lantern, 1x
Superman, 1x
Kingda Ka, 1x
Batman, 1x
The Dark Knight, 1x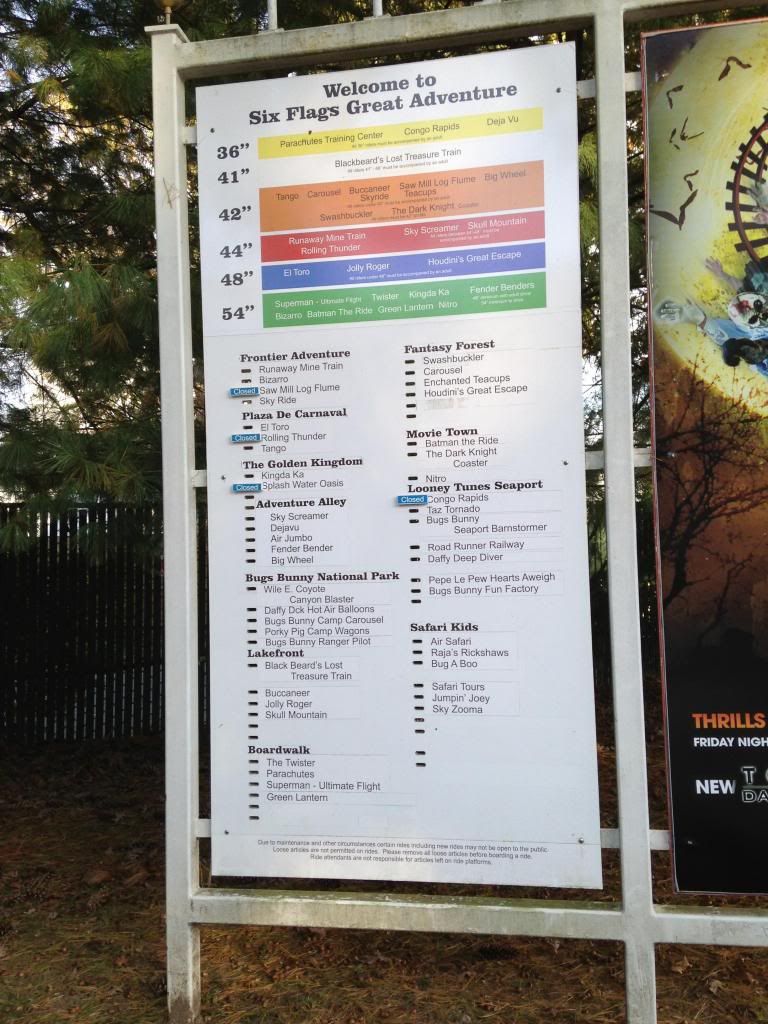 Nice to see everything open except the water rides
I guess over the weekend there were long lines to enter the park
I never saw the opportunity to pre-order a video game at an amusement park before
I forgot this plaque was there
Bizarro's line