I originally wasn't planning on going to the park today but knowing I wouldn't be able to get there this upcoming weekend I decided to go in the afternoon and stay until closing.
I saw Superman had a very long line from the parking lot and later saw they were only running 1 train. It was probably at least a 90 minute wait.
Like last Thursday, the major coasters had long lines so I decided to start with the smaller coasters which had short lines or no lines and hope the schools would leave in a few hours.
The Dark Knight was around 15 minutes from entering the line until boarding the train and Skull Mountain was a 1 - 2 train wait depending on what row you wanted. Blackbeard's had no wait.
With the cool weather and looking like it could rain at any time, the Log Flume only had about a 5 minute wait.
Runaway Mine Train was a station wait and from the ride I saw Bizarro had a line in the switchbacks so I took the Skyway back to the Dream Street Station with a few minute wait and rode Skull Mountain again.
Lines for the major coasters were getting shorter with Nitro about a 20 minute wait. When I walked around for another ride it was down to around a 10 minute wait and for the 3rd and 4th rides, just over 5 minutes.
Batman looked like it might have been closed with no trains running for a while. It was open and a 3 train wait for the front row. After the train finished the circuit, I saw the other train was having problems since they unloaded everyone from it and ran it empty.
It looked like the sky was getting darker so rather than go back to Nitro I walked back to the other side of the park. El Toro's line was in the 1st switchbacks so I skipped it for now and went to Bizarro with no wait getting 3 rides in a row.
It was around 5:15 and was starting to rain. I thought I would check El Toro's line again and then leave. It was just under 10 minutes. From the line I saw Kingda Ka was testing. They ran 2 empty trains and then stopped (maybe because of the rain). I had trouble keeping my eyes open during the ride with all the rain and thought it might have been running faster than last week. Even though there was a station wait, I decided 1 ride was enough because of the weather.
I considered going back to Skull Mountain for a few more rides before closing and decided against it thinking the rain might get even worse soon.
It was yet another great trip to the park
Ride Count:
Nitro, 4x
The Dark Knight, 1x
Skull Mountain, 3x
Blackbeard's, 1x
Log Flume, 1x
Skyway, 1x
Runaway Mine Train, 2x
Bizarro, 3x
El Toro, 1x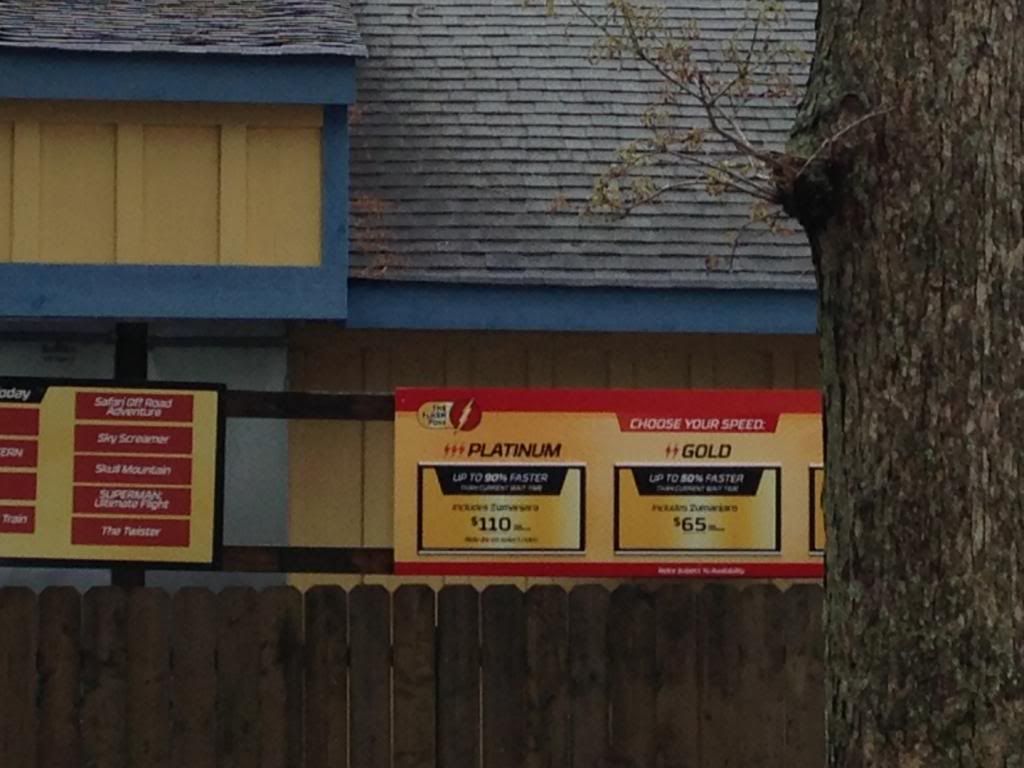 It looks like Zumanjaro will be included on Platinum and Gold Flash Pass but not regular Flash Pass
Nitro's line when I was waiting for my 3rd lap