Seeing that the park closed at 9:00 today, I had hoped that since it was still a school day, there wouldn't be a lot of guests at the park except school groups and they would mostly be gone by 5:00 and thankfully that is exactly what happened.
I got to the park at 4:15 and saw a lot of rides listed as closed. Except for the rides in the Golden Kingdom and Deja Vu, everything else was open. At the parking booth the worker asked me what coasters I was going to ride, and before I could answer he asked if I was going to ride Kingda Ka. I said that I thought it was closed and hoped maybe it would open later in the day after the workers from Zumanjaro left for the day.
There were hundreds of students near the fountain meeting up with their classes to leave.
I started the day at Nitro and my first ride of the day was my 350th overall ride. The wait was around 15 minutes and then dropped to 5 minutes by the time I went for my 3rd ride. I then walked over to Batman with no wait for a middle row. The forcefullness of Batman got to me today and even though I could have stayed on for a re-ride, I decided against it and went to The Dark Knight. There were at least 20 people in the Flash Pass line which was surprising to see.
I went back to Nitro with a station wait and walked onto Skull Mountain getting 4 rides without having to leave the train.
After dinner I went to Blackbeard's and then went to the Boardwalk. There was a line of about 15 people outside the Golden Kingdom entance and I heard people saying it would open at 7:15. I waited 10 minutes and didn't see a test run and since the park was so empty I thought even if it did open, I could get to it later with a short wait and instead walked to the parachutes with no wait. It was nice to see 3 out of 4 sides open even with the low crowds.
Green Lantern had no wait and it was running rough today. It seems like some days it runs fine and other days it is really painful.
I saw Superman had no line but decided to skip it and went back to check on Kingda Ka when the security guards got the word the ride wouldn't be opening tonight so my first Kingda Ka ride of the year will have to wait.
Next, I went to a better Intamin coaster with no wait. Even though it was my 6th El Toro ride I still get surprised with how much air time the ride has, especially the drop before the twister section. I walked around for another ride and went to Bizarro with no wait.
It was around 8:30 and I wanted to try to ride the Log Flume, Runaway Mine Train and go back to El Toro. Neither the Log Flume or Runaway Mine Train had anyone in line and I got back to El Toro with 8 minutes before closing. I move to an empty row for a re-ride and rode again for a 3rd time in a row on the last train of the day. The final 2 rides were in a non wheel seat and I didn't know that a non wheel seat made the ride so much smoother since I thought it didn't matter on this coaster compared to Rolling Thunder or Thunderhawk where a non wheel seat vs a wheel seat is really noticeable. Now that I have had almost 10 total rides on El Toro, I'm going to say it's my 2nd favorite coaster in the park after Nitro.
It was 10 minutes past closing and I stopped at the store near the exit of where Safari Discoveries was to buy one of the 40th Anniversary Season Pass T-Shirts for $9.99. I like how it has the park's skyline compared to some shirts at other parks where they use generic coasters and rides for the skyline.
Ride Count:
Nitro, 4x
Batman, 1x
The Dark Knight, 1x
Blackbeard's, 1x
Skull Mountain, 4x
Parachutes, 1x
Green Lantern, 1x
El Toro, 5x
Bizarro, 1x
Runaway Mine Train, 1x
Log Flume, 1x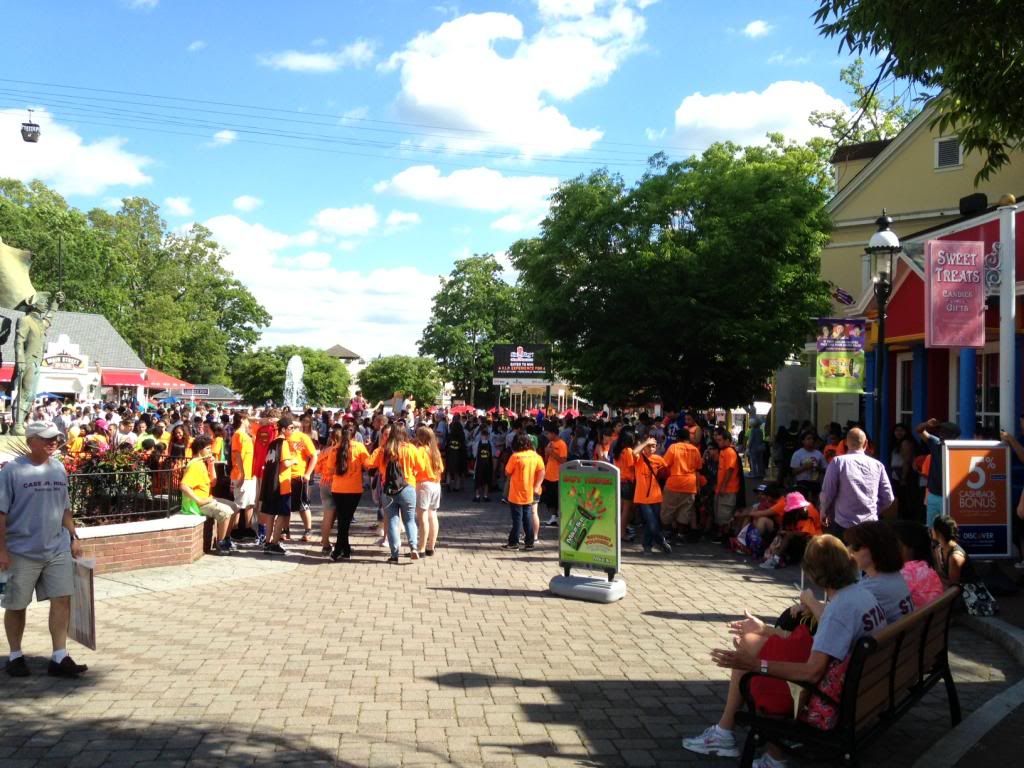 Lines were probably long earlier in the day with this many school trips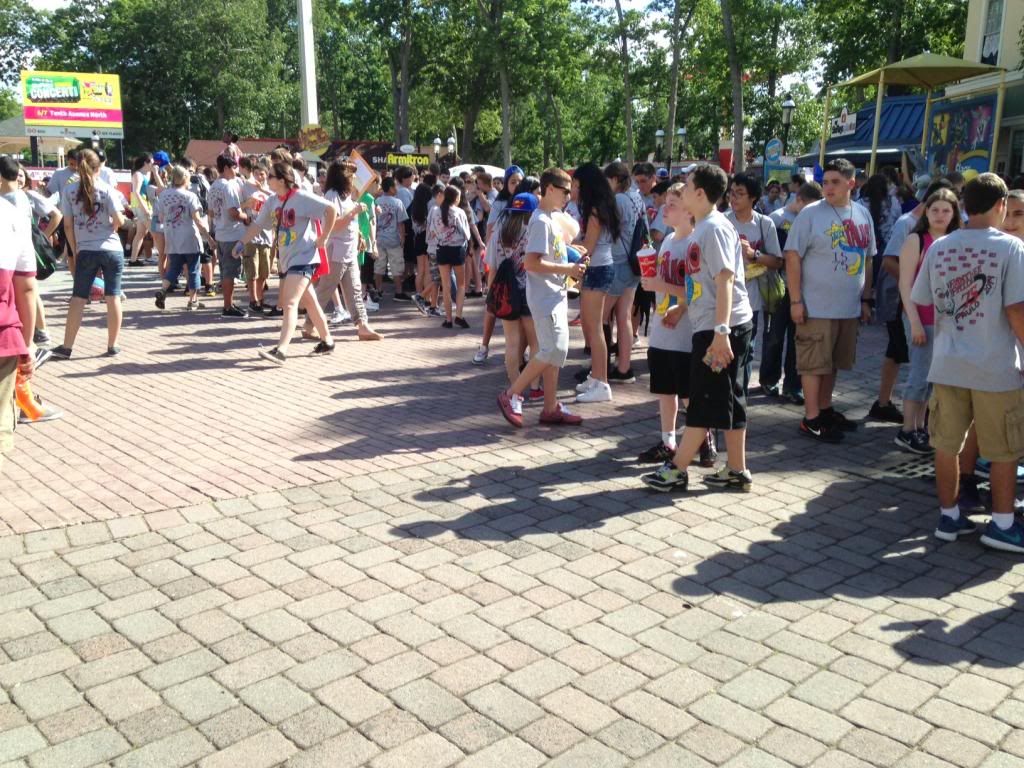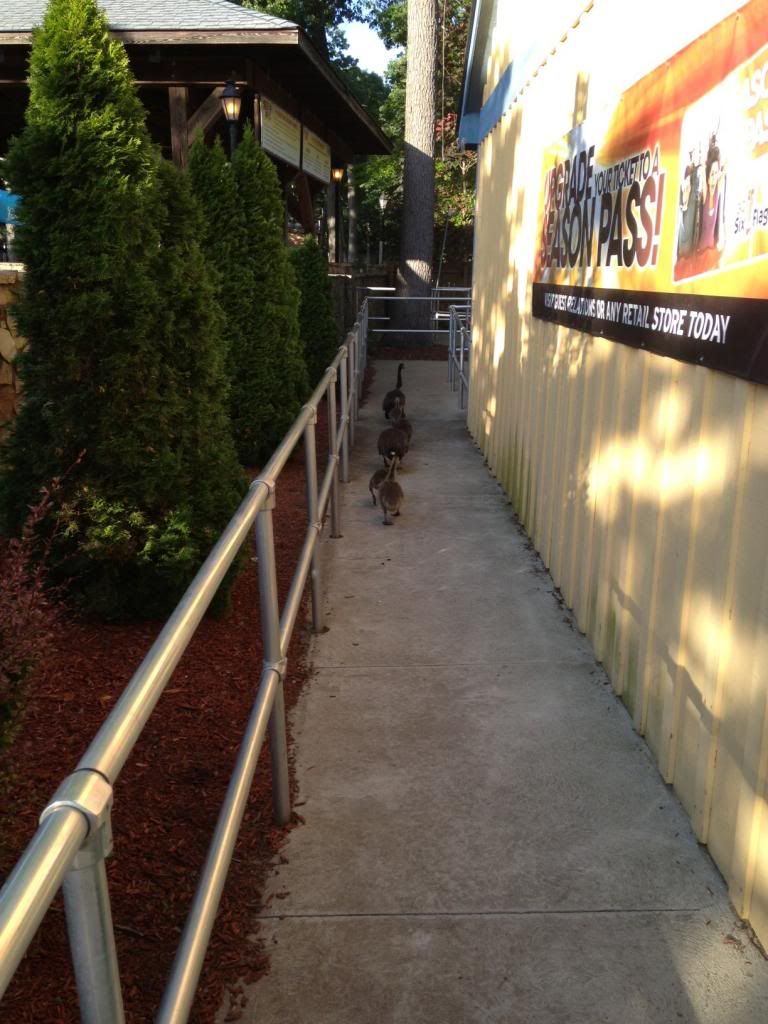 Geese on their way to rent a Flash Pass
I couldn't get a good picture of the sign. They are advertising Season Pass Funatics. For $29.99 you get the t-shirt, a preferred parking upgrade for 1 time, 2 game vouchers, a sounvenir bottle holder, some kind of bag and an additional $50 worth of coupons.
People waiting for Kingda Ka to open. Less than a minute after I took the picture, they were told the ride wouldn't be opening.