Sunday was my first trip to the park during Fright Fest that wasn't on a Friday or Monday since closing day 2008. I was hoping that since it was still September crowds may not be that bad early in the day and when I got to the park just before 1, it was almost the opposite of 2 weeks ago where it was so crowded that Skull Mountain's line was almost to the entrance.
I went to Runaway Mine Train first with no wait and then to Bizarro with a 2 train wait for the last row. The flames weren't working maybe because of the weather.
El Toro was next with a station wait and then Zumanjaro with no wait. I went back for another ride and was going to get in line again when a lot of people suddenly were waiting to ride. Kingda Ka had broken down and everyone must have gone to Zumanjaro instead.
Green Lantern had about a 10 minute wait. It was running well on this trip with no headbanging.
Superman had what looked like around a 30 minute wait so I skipped it and went to Skull Mountain waiting 3 trains for the last row. There was a light on near the section before the brakes.
Nitro was a station wait and I waited 5 trains for the front row. I only ride in the front row a few times a year and even with less air time compared to the back of the train, it's great to be at the top of the lift looking down at the first drop. I walked around again waiting at the bottom of the stairs and went for a 3rd ride waiting almost to the 30 minute sign.
The Dark Knight had no wait other than waiting to get into the pre-show  and Blackbeard's had no wait as well.
The Parachutes had 3 sides open, 2 sides had a line and the parachutes open in the back had no one waiting.
Superman was down to a 20 minute wait and then I finished the day with another ride at Runaway Mine Train.
I kept expecting crowds to pick up especially as it got later in the day but they never did.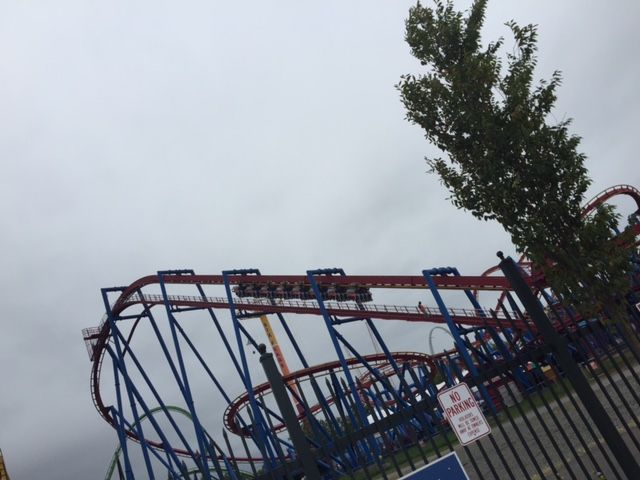 Superman stopped on the lift. It looked liked someone might have had a phone out because the ride op had a clear bin with them and the ride only stopped for a few minutes.
It still seems strange to not see Ft. Independence there anymore