I wasn't able to get to the park on Friday or Saturday and even though it was around 20 degrees cooler on Sunday, I hoped that might keep the lines shorter (even though at the same time I want attendance to be good so they continue Holiday in the Park for future years).
Getting to the park at around 1:30, I went to Green Lantern first and walked onto row 5 and re-rode in row 6. On the 2nd ride the Green Lantern Oath was playing that I haven't heard in a few months.
Superman Ultimate Flight was next with no wait for the last row. I was able to re-ride 2 more times just having to change rows. This is the first time this season I have ridden the coaster more than once in the same day and my 3rd ride ended up being my 100th overall Superman Ultimate Flight ride. I have liked the coaster a lot more this season. The past few years I only went to the coaster a few times a year and this season I try to ride the coaster every trip unless the line is bad.
Skull Mountain was next with no wait for the last row and like the other coasters I re-rode moving to the 6th car.
Nitro's station was half empty and it was only a 2 train wait for the front that I took advantage of since I normally am not willing to wait an extra 3 - 5 trains or more for the front. After moving to other rows and getting 4 total rides I went to Batman and walked onto a middle row. I am glad to have Batman running forwards again.
The Dark Knight had a 1/3 full pre-show room and I was also able to get a re-ride here.
After Batman, it was back to Nitro for another 4 rides having to walk around a few times and then to Skull Mountain for 2 more rides.
I haven't ridden SkyScreamer since June and went there next. It was really cold at the top but the view was amazing with the lights all over the park. I got back in line for a 2nd ride.
It was time for Nitro yet again 2 more times bringing my total up to 10 rides for the day. I wanted to ride 2 more times to break my record of 11 Nitro rides in 1 day but the cold was starting to get to me and I decided to go back to The Dark Knight for 1 more ride and leave since I was happy getting 25 rides in a little under 5 hours.
On the way out of the park I stopped to watch the fiber optic Christmas Tree Show and it was amazing, I felt like it was something you would see in a Disney park.
The park looks incredible with all the lights and decorations. It was great to just look in one direction and see lights everywhere. In between the rides I walked around the park to see everything.
Some of the pictures are from last week. I didn't post a report from last week since my internet was down for a few days and I didn't want to type up a report or try to post pictures from my phone.
I really liked the lights on the Carousel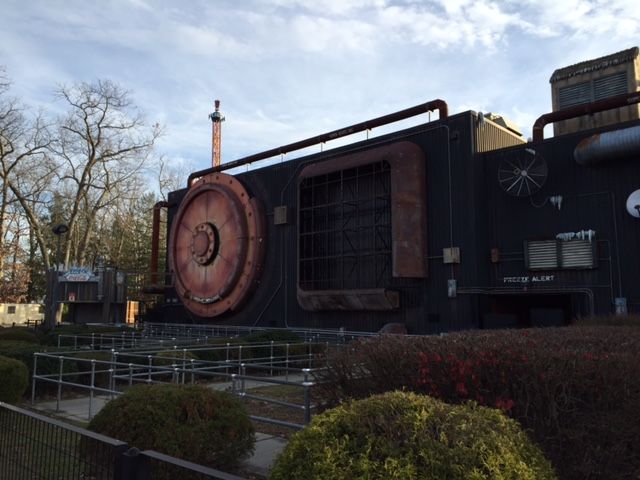 The closest I will get to riding Batman & Robin The Chiller